Canberra house rents have continued to rise, and remain the highest out of all capital cities, according to the latest Domain data.
The median asking rent for houses in the nation's capital has jumped 7.5 per cent over the year to $570 per week, with the Domain Rental Report for the March quarter finding Canberra has experienced the highest growth out of the capital cities over the past 12 months.
"House rents in Canberra have been growing for roughly three and a half years. Growth is higher this year than it was last, so I am expecting house rents to continue to grow," Domain senior research analyst Nicola Powell said.
With Sydney rents stagnating, the gap has further widened between Sydney and Canberra, with the median weekly asking rents for houses $30 more in the nation's capital. But Dr Powell noted the quality of stock in Canberra is likely higher than that of Sydney.
"What you would get for $570 in Sydney would be much different to what you would get in Canberra. You would be much close to the CBD in Canberra and you would likely have a larger home for that price point," she said.
Median weekly asking rents – houses
| | | | |
| --- | --- | --- | --- |
| | MAR-19 | MAR-18 | YOY |
| Sydney | $540 | $550 | -1.8% |
| Melbourne | $440 | $430 | 2.3% |
| Brisbane | $410 | $400 | 2.5% |
| Adelaide | $390 | $375 | 4.0% |
| Perth | $365 | $355 | 2.8% |
| Canberra | $570 | $530 | 7.5% |
| Darwin | $500 | $540 | -7.4% |
| Hobart | $450 | $420 | 7.1% |
| National | $448 | $443 | 1.4% |
The report also found house rents in Hobart have surpassed Melbourne.
"In terms of Hobart and Canberra, they are smaller capital cities and are seeing some of the strongest increases in rent, both of the cities have many similarities in terms of dynamics that are playing out," said Dr Powell.
"Both have seen an increase for short-term rentals [due to] heightened levels of tourism numbers and both have experienced pretty significant growth in the past two years. For an investor looking to purchase in either of these markets, the entry costs are much higher than they were 12 months ago."
It's more than $100 less to rent a unit in Canberra, with the median weekly asking rent at $465. Over the past 12 months, unit rents are up 3.3 per cent.
"Canberra is the second-most expensive capital city to rent a unit," Dr Powell said.
"Tenants have been faced with almost four years of rising unit rents, however, the pace of unit rent growth is now slowing – a counter-intuitive scenario given the fact Canberra has experienced a development boom over recent years."
Median weekly asking rents – units
| | | | |
| --- | --- | --- | --- |
| | MAR-19 | MAR-18 | YOY |
| Sydney | $530 | $550 | -3.6% |
| Melbourne | $420 | $410 | 2.4% |
| Brisbane | $380 | $375 | 1.3% |
| Adelaide | $310 | $300 | 3.3% |
| Perth | $300 | $300 | 0.0% |
| Canberra | $465 | $450 | 3.3% |
| Darwin | $400 | $400 | 0.0% |
| Hobart | $380 | $350 | 8.6% |
| National | $458 | $464 | -0.8% |
Ashleigh Webb and Jackson Russell have rented in Canberra for seven and eight years, respectively. The two first started renting at student residences, then moved to share houses, and are now renting a one-bedroom apartment in Turner.
"Every time I have gone to inspect a property there is always a mass of people and it is really daunting, especially when you are young and you see families or professionals and you think you can't compete against them but it is always just about being prepared," Ms Webb said.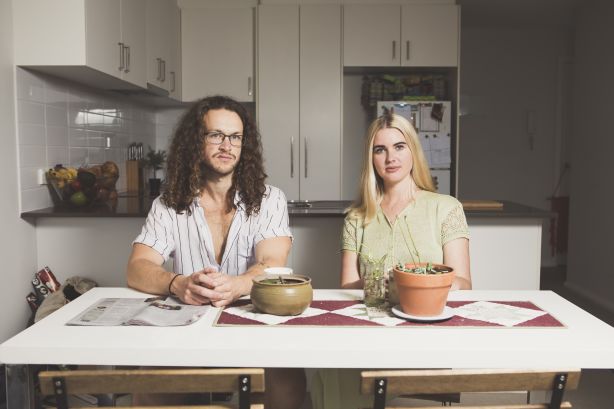 The couple offered $10 per week more than the advertised price for their current apartment.
"It's about being prepared. When I went to the open home I got there straight away, had an application filled out and we got a call the next day," Ms Webb said.
ACT Shelter chief executive officer Travis Gilbert said he had "heard of instances where people have offered to pay multiple months of rent in advance or have attempted to pay higher bonds".
Mr Gilbert said while Canberra was often considered affordable due to the higher than average income, for those in the bottom two income quintiles, high rents in the nation's capital pushed more people into rental stress.
"The cost of living is pushed up in the ACT because people are seen to be able to pay a little more, and we see that reflected in rent," he said.
Dr Powell said there was a silver lining for tenants – advertised stock and the vacancy rate has increased over the past 12 months.
According to Domain data, house rental listings are up 10.7 per cent over year-on-year over the March quarter and unit rentals are up 5.1 per cent over the year.
The vacancy rate for Canberra over March was 0.8 per cent, up from March 2018 where it was 0.5 per cent.
"These could be indications we might start to see more rental supply come on to the market. We have seen rental supply dwindle for a number of years now, but if we see additional supply it could ease the tight rental conditions we have seen," Dr Powell said.
Distinct Property Management director Chris Scullin said the impending federal election has contributed to the slight rise in supply.
"It's been an unusual quarter because we have been leading into an election … there's been a decrease in new postings and we are seeing available properties are not turning over as fast they were four to six weeks ago," he said.
"We are also seeing a reduction in people renewing fixed-term leases, instead people are seeking to renew on a periodic basis."
Gross rental yields for units in Canberra are the highest of the capital cities at 6.14 per cent. For houses, it sits at 4.39 per cent.
This article was first published in www.domain.com. Here is the link to the original article: https://www.allhomes.com.au/news/canberra-rents-continue-to-rise-still-most-expensive-capital-city-to-rent-a-house-817535/