Canberra house prices have experienced the first annual fall in more than six years, with the median house price declining at a faster rate than units.
The latest Domain House Price Report, released on Monday, showed Canberra house prices have dropped 2 per cent year-on-year to a median of $722,440 over the March quarter. The median unit price of $426,719 is down 1.7 per cent year-on-year.
Domain senior research analyst Nicola Powell said this was the first time since 2012 that house prices have dropped, and was the steepest annual fall in a decade.
Median house prices
| | | | |
| --- | --- | --- | --- |
| Capital city | Mar-19 | Mar-18 | YoY |
| Sydney | $1,027,962 | $1,161,083 | -11.5% |
| Melbourne | $809,468 | $903,266 | -10.4% |
| Brisbane | $563,666 | $565,501 | -0.3% |
| Adelaide | $542,474 | $532,092 | 2.0% |
| Canberra | $722,440 | $737,532 | -2.0% |
| Perth | $529,997 | $559,296 | -5.2% |
| Hobart | $478,247 | $446,786 | 7.0% |
| Darwin | $514,546 | $507,191 | 1.5% |
| National | $748,217 | $811,829 | -7.8% |
"The upcoming federal election is likely to be weighing on local confidence with buyers and sellers delaying property decisions. It is certainly not the only reason for slower market activity; stock levels have risen, giving buyers greater choice and home loans are harder to attain," she said.
Dr Powell said the falls were unlikely to continue for an extended period.
"When houses track backwards in Canberra it is very minor – it doesn't take long for the market to recover, it more or less goes sideways for a period of time," she said.
"The nation's capital has a tendency to be the quiet achiever providing home owners with steady equity growth. Historically, any pullback in house prices tends to be short and relatively minor.
"Current market conditions are likely to be the same, a short period of softening rather than the correction currently unravelling in Sydney and Melbourne."
Median house prices are down in Sydney and Melbourne, 11.5 per cent and 10.4 per cent year-on-year respectively. Nationally, house prices are down by 7.8 per cent.
Real Estate Institute of the ACT president Michael Kumm said the Canberra market was at its peak in 2017, and suggested the fall was a slight correction to where the price should be.
"I don't see any of this as an issue, I think it is a slight reaction to the election [and] a slight reaction to the banking royal commission," he said.
"We have the best-educated buyers in Australia, which by definition makes them the most conservative buyers."
While median unit prices have fallen at a slower pace than houses, Dr Powell said the housing market remained stronger, pointing to the fact house prices are up 25.8 per cent over the past five years whereas units are up only 4.5 per cent.
"The equity growth of houses has far surpassed units. Houses have had a period of sustained growth, whereas units haven't had that," she said.
Median unit prices
| | | | |
| --- | --- | --- | --- |
| Capital city | Mar-19 | Mar-18 | YoY |
| Sydney | $696,935 | $745,184 | -6.5% |
| Melbourne | $466,892 | $509,025 | -8.3% |
| Brisbane | $372,852 | $393,350 | -5.2% |
| Adelaide | $312,459 | $316,550 | -1.3% |
| Canberra | $426,719 | $433,908 | -1.7% |
| Perth | $347,596 | $368,152 | -5.6% |
| Hobart | $363,418 | $335,132 | 8.4% |
| Darwin | $313,462 | $318,928 | -1.7% |
| National | $526,130 | $561,306 | -6.3% |
Director of project planning at Independent David Shearer said a contributing factor to unit declines was the greater number of smaller and "more affordable" apartments.
"There is no doubt there has been a much-increased proportion of affordable apartments, particularly in Molonglo and Gungahlin and these apartments far outnumber what is being sold and built in the inner areas, so median prices will be lower as a result," he said.
Mr Shearer said overall the Canberra market was performing well, but falls in Sydney and Melbourne were having an impact inside ACT borders.
"The market seems to be in a weird limbo at the moment. Although structurally the Canberra market is in very good shape, and is generally undersupplied with stock, [the] media is so focused on falls in Sydney and Melbourne," he said.
"[As a result] Canberra buyers are being overly cautious. I expect the realities of a solid well-balanced market will pervade the continual negative press."
The fall in house and unit prices, coupled with the upcoming abolition of stamp duty for first-home buyers in the ACT on all properties under an income threshold, is offering some confidence for those who want to make their first step on the property ladder.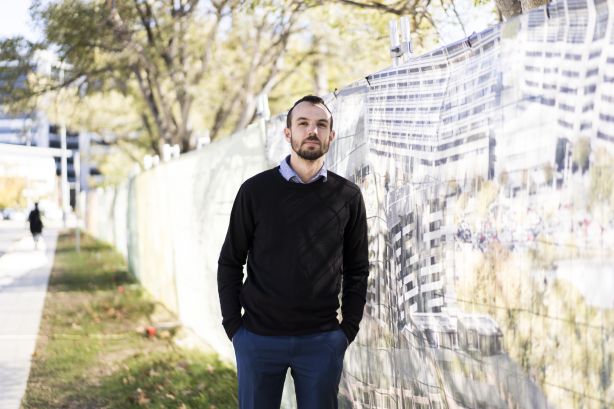 Christof Bogacs is a first-home buyer currently looking for an apartment. Home ownership, he said, "at the moment feels very, very achievable".
"It feels like a good time, there are a lot of options at the moment with both the current system in place, with a first-home buyer grant and stamp duty exemptions for new properties, and also the new system coming in. It will be better if we decide to go for an established property," he said.
Dr Powell said affordability had improved in the market but lending might be a barrier to home ownership.
"Falling prices certainly aid affordability but for first-home buyers, it's about getting the finance in place which some may struggle to do," she said.
"There is a greater prospect for interest rate cuts [and] if the interest rate fall by the RBA is passed onto consumers, that improves affordability. Conditions are much favourable than they once were for first-home buyers."
This news article was first published in www.domain.com.au. Here is the link to the original article.