The lack of new homes on the market is driving sales at auction in Melbourne's south east, agents and auctioneers say.
In the first week of April auctions, the early indicators show Melbourne's clearance rate is sitting at 56 per cent.
Expectations are that it will remain at 50 per cent or higher once figures are finalised this week.
The south-eastern suburbs of Bentleigh and Bentleigh East took the lead in auction numbers, with 19 auctions, and according to Domain results seven were passed in.
Director of Buxton Bentleigh Chris Hassall said their own results of 13 auctions and 11 sales showed things were improving in 2019.
"Our tails are up," Hassall said. "The vendors are finally meeting the buyers' expectations – it seems like it's levelled out."
While auction sales in the area were doing well, homes were also likely to sell before the auction.
Hassall said a property at 42 Mawby Road, Bentleigh East, sold for $1.4 million before auction. Two families fought it out for the sale, with the home close to the popular Tucker Road Bentleigh Primary School.
Hassall said the lack of homes for sale was driving buyers to get into the market. The sale in Mawby Road was due to there being fewer homes with enough bedrooms for larger families.
"There's a real lack of stock of four-bedroom homes in the area," he said. "The urgency is creeping in. People are maybe thinking this is the bottom of the market. It's a buying-just-in-case scenario.
"If you had to choose, you would be pretty gutsy to wait another year or even six months before buying."
Partner at Kay & Burton South Yarra Michael Armstrong agreed that less ready supply meant buyers were making offers before properties went to auction.
He said buyer confidence was coming back to the market in April with an auction at 56 Clarence Street, Malvern East, selling for about $3 million.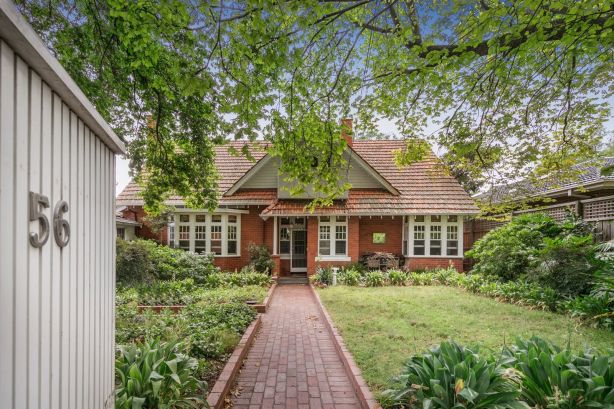 While Bentleigh was seemingly booming, Brunswick, on the other side of town, struggled with sales at auction.
Of the 18 auctions listed in Brunswick, Brunswick East and Brunswick West, only half sold on the day.
The reason for this was the tighter lending criteria from banks biting at buyers keen to make an offer, especially in the $1 million price bracket.
Several places at this price including one at 84 Wilson Street, Brunswick, which had a price guide of between $950,000 and $1.045 million, passed in.
"First-home buyers, young professionals are still dealing with restraints from the banks in buying," Greg Cusack, director and auctioneer at Jellis Craig Brunswick, said.
He said agents were helping educate vendors that there were people interested in buying – only with subject-to-finance or subject-to-building-inspection clauses in place.
Cusack said upper-end Brunswick properties – those worth around $2 million – were still selling well.
As were two properties in Collingwood with 34 Keele Street selling for $1.22 million on a $1.15 million reserve.
Another, at 8/93 Oxford Street, which included a parking space for a show car in the living room, sold for $1.725 million.
Domain senior research analyst Nicola Powell said these types of "A-grade" properties were still selling in Melbourne at auction, and getting good prices.
"There were a couple of houses that went above reserve this weekend, and that is unusual in this market," Dr Powell said.
She said some stability could return to the Melbourne market after the Federal election in May, and more decisions by the Reserve Bank of Australia to cut interest rates.
"The outcome of the election is going to be a key thing," she said. "It could spark investor activity with investors wanting to buy before new [negative-gearing] rules come into place."
This article was first published in www.domain.com.au. Here is the link to the original article: https://www.domain.com.au/news/lack-of-new-homes-for-sale-driving-melbourne-auction-sales-in-april-816555/